Retailers and manufacturers
Let us simplify your life
In business for over 40 years, our expertise serves every Eastern city and town—from Thunder Bay, Ontario, to St. John's, Newfoundland. We specialize in logistics and transportation of furniture, appliances, electronics, and much more!
State-of-the-art equipment, an ecological conscience, a dynamic team of people, and real-time shipping tracking
Container imports
Distribution
Warehousing
Commercial deliveries
Logistics
VA Transport in a nutshell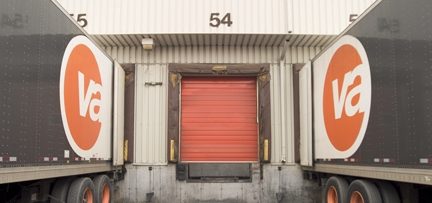 A fleet of 100 trucks and 450 trailers
48,000 KM travelled per day
(That's more than the Earth's circumference travelled every working day!)
An average of 800 delivery slips signed per day.
VA Transport is a reliable and accessible B2B trucking service, and above all, we have happy and loyal customers!

GoRecycle is the only organization that transports and recycles household refrigeration appliances. Its mission is to ensure the responsible recycling of household appliances in Quebec and reduce halocarbon emissions—harmful greenhouse gasses (GHGs).

VA Elite is proud to partner with this non-profit organization and ensure the transportation of these appliances from eco-centers and numerous retailers—helping reduce waste and actively fight climate change.
At-home delivery service
Consumers
VA Elite division takes care of all your at-home deliveries.